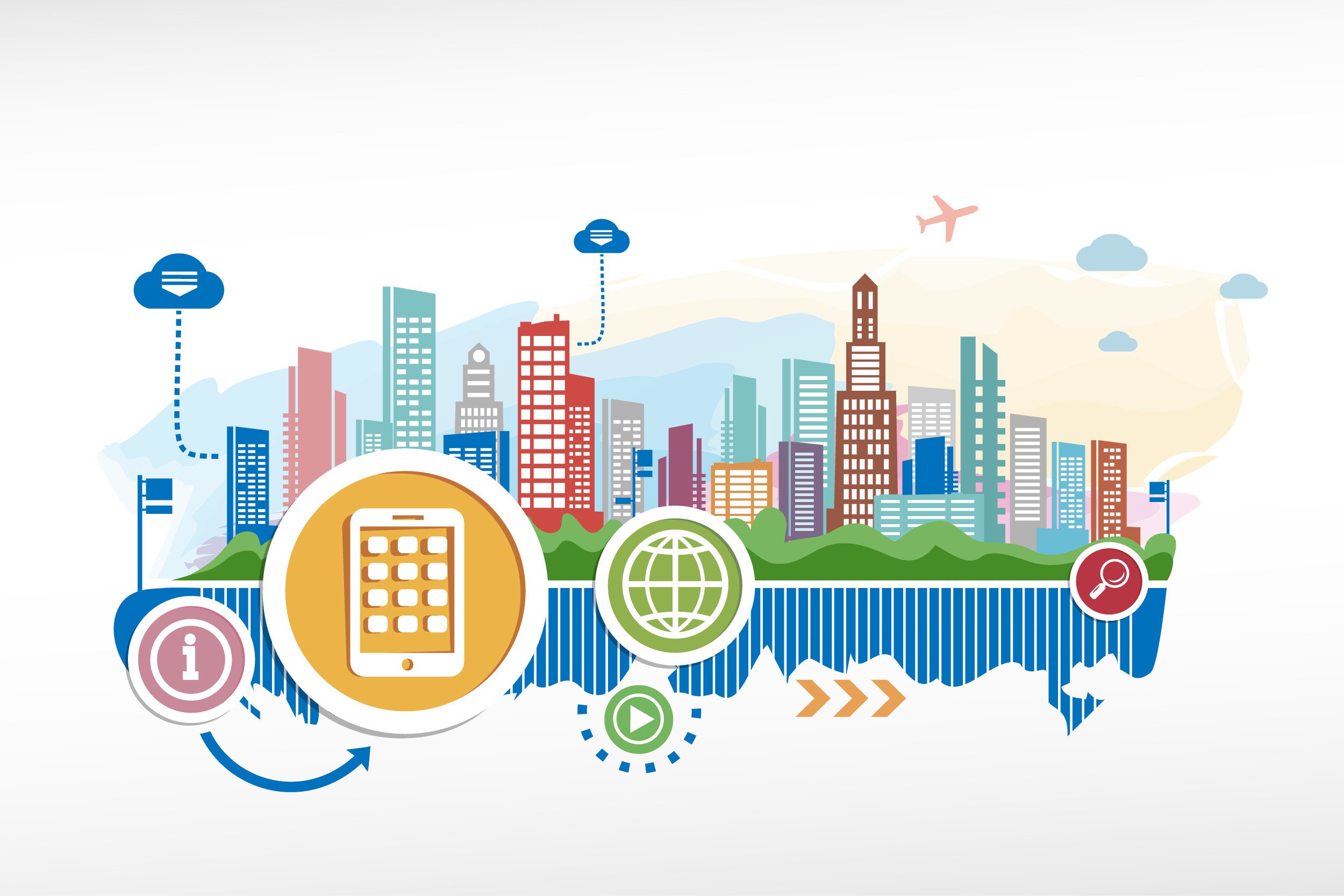 By Sohil In Business, Official Blog, Tech-BLOG, Technical
Smart-City initiative and a glimpse of Naya-Raipur
Smart city is an urban area that uses different types of electronic data collection sensors to supply information which is used to manage assets and resources efficiently. This includes data collected from citizens, devices, and assets that is processed and analyzed to monitor and manage traffic and transportation systems, power plants, water supply networks, waste management, law enforcement, information systems, schools, libraries, hospitals, and other community services.
The smart city concept integrates information and communication technology(ICT), and various physical devices connected to the network to optimize the efficiency of city operations and services and connect to citizens. Smart city technology allows city officials to interact directly with both community and city infrastructure and to monitor what is happening in the city and how the city is evolving.
ICT is used to enhance quality, performance and interactivity of urban services to reduce costs, resource consumption and to increase the contacts between citizens and government. Smart city applications are developed to manage urban flows and allow for real-time responses. A smart city may therefore be more prepared to respond to challenges than one with a simple "transactional" relationship with its citizens.
According to Professor Jason Pomeroy, in addition to technology, smart cities "acknowledge and seek to preserve culture, heritage and tradition", such as Barcelona in Spain.Yet, the term itself remains unclear to its specifics and therefore, open to many interpretations.
Due to the breadth of technologies that have been implemented under the smart city label, it is difficult to distill a precise definition of a smart city. Deakin and Al Wear.
Four factors that contribute to the definition of a smart city:
The application of a wide range of electronic and digital technologies to communities and cities
The use of ICT to transform life and working environments within the region
The embedding of such Information and Communications Technologies (ICTs) in government systems
The territorialisation of practices that brings ICTs and people together to enhance the innovation and knowledge that they offer.
Deakin defines the smart city as one that utilise ICT to meet the demands of the market (the citizens of the city), and that community involvement in the process is necessary for a smart city.Smart city would be a city that not only possesses ICT technology in particular areas, but has also implemented this technology in a manner that positively impacts the local community.
Characteristics
It has been suggested that a smart city use information technology to:
Make more efficient use of physical infrastructure through artificial intelligence and data analytics to support a strong and healthy economic, social, cultural development.
Engage effectively with local people in local governance and decision by the use of open innovation processes and e-participation, improving the collective intelligence of the city's institutions through e-governance with the emphasis placed on citizen participation and co-design.
Learn, adapt and innovate and thereby respond more effectively and promptly to changing circumstances by improving the intelligence of the city.
They evolve towards a strong integration of all dimensions of human intelligence,collective intelligence, and also artificial intelligence within the city.The intelligence of cities "resides in the increasingly effective combination of digital-telecommunication networks(the nerves), ubiquitously embedded intelligence(the brains), sensors,tags(the sensory organs)and software(the knowledge and cognitive competence)".
These forms of intelligence in smart cities have been demonstrated in three ways:
Orchestration intelligence:Where cities establish institutions and community-based problem solving and collaborations, such as in Bletchley Park, where the Nazi Enigma cypher was decoded by a team led by Alan Turing. This has been referred to as the first example of a smart city or an intelligent community.
Empowerment intelligence: Cities provide open platforms, experimental facilities and smart city infrastructure in order to cluster innovation in certain districts. These are seen in the Kista Science City in Stockholm and the Cyberport Zone in Hong Kong. Similar facilities have also been established in Melbourne.
Instrumentation intelligence: Where city infrastructure is made smart through real-time data collection, with analysis and predictive modelling across city districts. There is much controversy surrounding this, particularly with regards to surveillance issues in smart cities. Examples of Instrumentation intelligence have been implemented in Amsterdam.This is implemented through:

A common IP infrastructure that is open to researchers to develop applications.
Wireless meters and devices transmit information at the point in time.
A number of homes being provided with smart energy meter to become aware of energy consumption and reduce energy usage
Solar power garbage compactors,car recharging stations and energy saving lamps.
Smart-City(Naya-Raipur)
Among the many successful policies and development projects, one of the most ambitious ventures by the state government is Naya Raipur, Chhattisgarh's new capital city, which was recognized as worlds first ever integrated township in January 2017.
Environmental issues are considered to be a global concern today, and much remains to be done for effective conservation. In Naya Raipur, 27% of the land is solely devoted to greenery and the regions environmental policies make it the first Greenfield Smart City in India.
Smooth and safe cycling lanes are constructed throughout the city, promoting the use of non-motorized transport systems. Apart from minimizing air pollution, steps have been taken to conserve water, and every building in Raipur will have effective and compulsory rainwater harvesting systems. The NRDA is maintaining 55 reservoirs in the region, including three lakes.
Public buildings should not only have this system but should be erected on the basis of green building concept. Green buildings use less water, optimize energy efficiency, conserve natural resources, generate less waste and have minimum impact on environment. The offices of NRDA and Housing Board Corporation are examples of such buildings, and a visit to the NRDA shows the building sparkling with sunlight.
In a bid to offer wholesome recreation for local residents, an amusement park is currently being built in sector 24 alongside Jhanjh Lake for water sports facilities. A club house in Sector 24 will offer fitness, lounge, theatre and other amenities while the Immersive Dome Theatre, streaming five-dimensional movies, is already entertaining Raipurians. Ekatm Path, a 2.2 km boulevard is a paradise for morning walkers, and reminiscent of Raj Path in New Delhi.
Purkhauti Muktangan, the cultural village showcasing the rich cultural heritage is a popular spot in the city. Recently, PM Narendra Modi inaugurated the Botanical Garden in Naya Raipur, and the Jungle Safari held as Asias largest man-made forest safari.
In its smart city initiative, NRDA is conducting an online citizen survey, seeking priorities, demands and innovative suggestions from people. This is the first time a newly developing town plan is being prepared with public involvement.
In any civilization the quality of life is dependent on housing and residential amenities. As per an NRDA plan, 21 sectors are reserved for residential premises in the city of which three sectors are built by state housing board corporation. These three sectors are habitable with 5100 units already constructed.