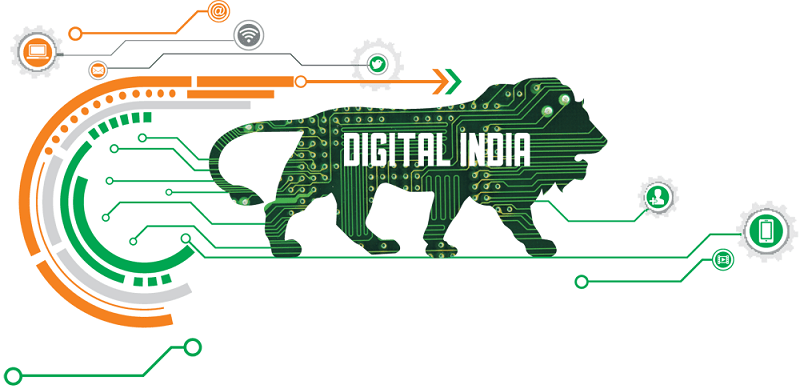 By Jain Software In Business, Marketing, Official Blog
A lot has been done till date by the government of India with the Digital India plan, the idea behind this plan was definitely to just improve ourselves as to digital world and to adopt the changes as the world is changing so not to lack behind. It is mentioned in the website of digital India, that Digital India has a vision transform India into a digitally empowered society and knowledge economy. But my main concern is after the two years of the program being launched I dont see much of the people which is other than the young generation is not at all ready to run parallel to the rest India.
Digital India to them is like thrusting a piece of cake to their neck, it is good, it is healthy and even delicious but still not adaptive to the ones who dont want to eat. This is felt by most of the people in this country.
The main problem is that nobody knows what to do, how to do, and after some struggle if feels uncomfortable to them to do. The initiatives on infrastructure, services, and empowerment are really appreciable yet not reachable by most of the audience. What is needed is the consultation, which is also provided but not in the well-guided manner, which eventually makes out of no fruit.
The plans under digital India, Startup India, and Skill India also impacting great but still the thrust of hammer not enough to bend the metal, means a lot of promotion and consultation is needed to do reach out to people, ideas are endless by people for rural development and strong infrastructure and economic growth proper monitoring is needed, as a tree needed the most care when was a plant.
Digital India plan is definitely a boon for all individuals if they can utilize the opportunity, a complete description of approach and methodology for digital India program which looks very active words when you see in website but what is been acted, very little as per my knowledge.
Well, I am not here to just talk about everything that is dark going on in this world, many things goes positive and actually has changed after the Digital India plan. Plans which actually made an impact to the governance under the digital india are can be mentions as
High-speed connectivity and high-speed internet at most remote and inaccessible areas to grow the communication and connect India to the world and newer ideas. Its a National Rural Internet Mission.
E-Governance?Improving governance using technology. This is to improve the government to citizen interface for various service deliveries.
E-Kranti ?Deliver services electronically and thus in a faster and time-bound manner. This is helpful in education, healthcare, planning, security, financial inclusion, justice, farmers, etc.
Information for all –This will bring in transparency and accountability by easy and open access to documents and information to the citizens.
Electronics manufacturing ?This will encourage manufacturing of electronics in India and reduce electronics import and help in job creation too. This will help in achieving goals of Make in India initiative also.
Cyber Security ? Government giving now focus on the security part of the data that usually leaks and the data can be used in important hands
IT for jobs ?Skill India mission under the Digital India mission helping students to learn the practical and industrial level experience to enhance their performance.
After seeing all this points I think I have increased your dilemma that Digital India plan/campaign is really doing any good or was and is doing great. Well my point in this is that we are doing good, but changes always happen when you do great and with a great pace, I am much of concerned about over very slow growing and learning speed. We need to implement everything fast but at the same time made it convenient for people to use else it wont to anyone till we act on it strongly and boldly on it.
C James Yen said beautifully once that, Technical know-how of the experts must be transformed into practical do-how of the people.