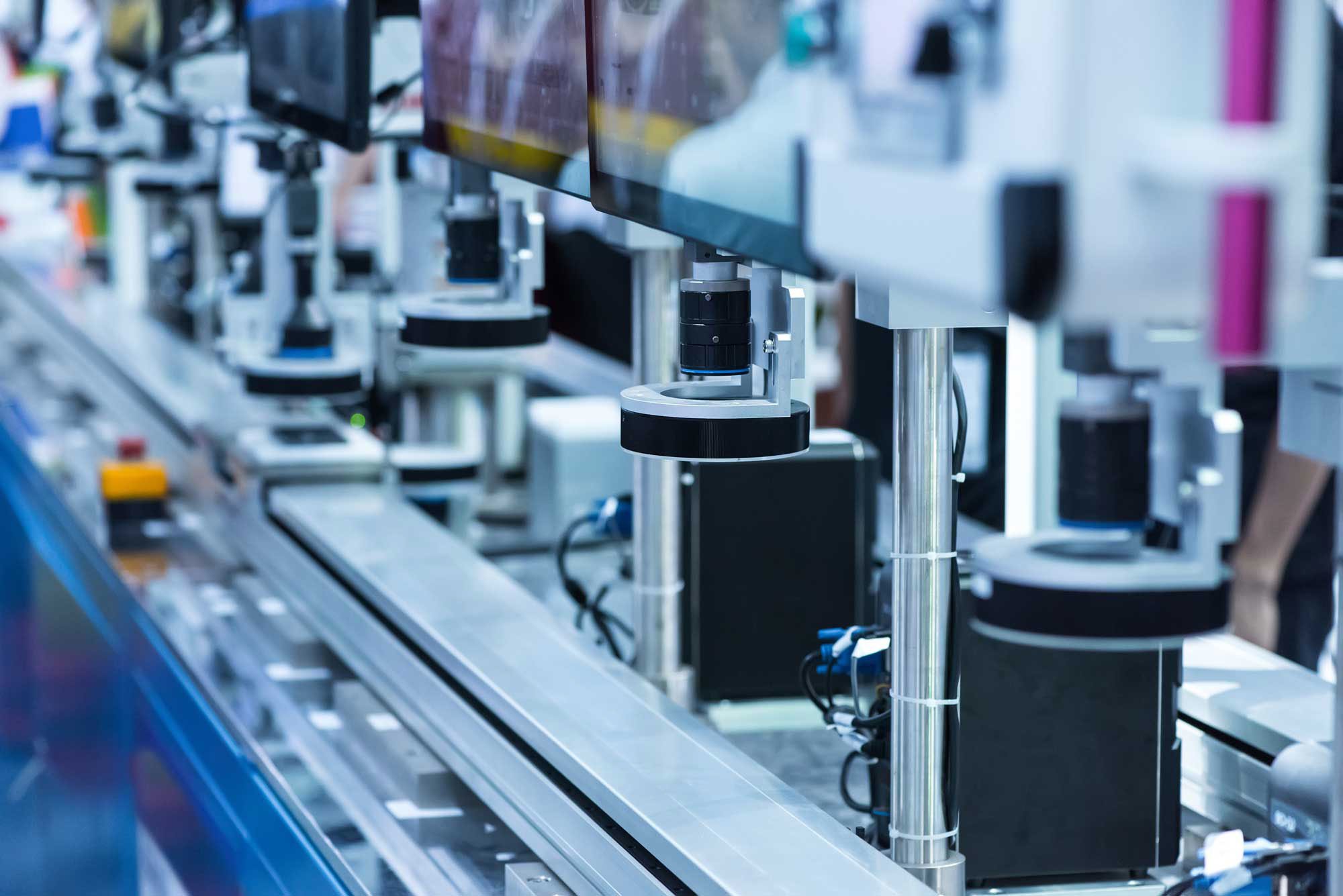 By Jain Software In Business, Official Blog
By Author – Faizan Haider
Automation can be defined as the technology by which a process or procedure is performed without human assistance.
Today the development of technologies made it possible to introduce industry automation systems into almost all manufacturing fields. Industry automation of production processes enhances labor efficiency and allows cutting net cost and improving product quality improved production control.
Automation or automatic control is the use of various control system of operating equipment such as machinery, processes in factories, boilers, and heat treating ovens, switching on telephone networks, steering, and stabilization of ships, aircraft and other applications and vehicles with minimal or reduced human intervention. Some processes have been completely automated.
Automation has been achieved by various means including mechanical, hydraulic, pneumatic, electrical, electronic devices and computers, usually in combination. Complicated systems, such as modern factories, airplanes, and ships typically use all these combined techniques. The benefit of automation includes labor savings, savings in electricity cost, savings in material costs, and improvements in quality, accuracy, and precision.
Importance of Industrial Automation and Control Systems:
It is the use of control in terms of computers, machinery, and robots that have replaced human work in a manufacturing or production industry. It is the biggest platform of civilization turning into seedy results as a scope of industrialization.
OFFICE AUTOMATION:
Office automation refers to the varied computer machinery and software used to digitally create, collect, store, manipulate, and relay office information needed for accomplishing basic tasks.
PURPOSE OF AUTOMATION-
Sometimes our purpose in automating is to do the "impossible" that is, to make a qualitative leap, a discontinuous improvement in the quality attributes of a process. In either case, the purpose of automation is, always and entirely, to improve the quality attributes of a process.
AUTOMATION TESTING:
Automated testing tools are capable of executing tests, reporting outcomes and comparing results with earlier test runs. Tests carried out with these tools can be run repeatedly, at any time of day. The method or process being used to implement automation is called a test automation framework.
BENEFITS OF AUTOMATION:
Increased throughput or productivity
Improved quality or increased predictability of quality
Improved robustness (consistency), or processes or product
Increased consistency of output
Reduced direct human labor costs and expenses
AUTOMATION TOOLS
Telerik Test Studio is a comprehensive and one of the most intuitive automation testing tools available.
Selenium
Robotium
Test Complete
Water
Visual Studio Test Professional
QTP (UFT)
SoapUI
AUTOMATION IN SOFTWARE INDUSTRY
Software Companies are using software robots to automate recurring manual IT tasks and to manage applications and deliver back office services.
AUTOMATION ANYWHERE
Automation Anywhere is a developer of the robotic process automation (RPA) software. Automation Anywhere Enterprise combines traditional RPA with cognitive elements such as natural language processing and reading unstructured data.
NEED OF AUTOMATION
Automation brings in necessary agility to testing and helps it to respond faster and more effectively to changes. Agility requires frequent code deployments, which can also be automated.
AUTOMATION IN COMPUTER
The technique of operating or controlling a process by highly automatic means, as by electronic devices, reduces human intervention to a minimum.
A mechanical device operated electronically, that functions automatically, without continuous input from an operator.
ROBOTICS AUTOMATION
Robotic process automation (RPA) is the application of technology that allows employees in a company to configure computer software or a robot to capture and interpret existing applications for processing a transaction, manipulating data, triggering responses and communicating with other digital systems.
AUTOMATION IN MUSIC PRODUCTION
Automation allows the console to remember the audio engineer's adjustment of faders during the post-production editing process.
AUTOMATION IN ACCOUNTING
An accounting information system is a system for collecting, storing and processing financial and accounting data that are used by decision makers. An accounting information system is generally a computer-based method for tracking accounting activity in conjunction with information technology resources.
ADVANTAGES OF AUTOMATION:
Automation in the manufacturing industry is the process of integrating industrial machinery to automatically perform tasks such as welding, material handling, packing, palletizing, dispensing, cutting, etc… Utilizing hardware and software automation increases productivity, safety and profitability.
THE MAIN ADVANTAGES OF AUTOMATION ARE:
Increased throughput or productivity.
Improved quality or increased predictability of quality.
Improved robustness (consistency), or processes or product.
Increased consistency of output.
Reduced direct human labor costs and expenses.
Installation in operations reduces cycle time.
Can complete tasks where a high degree of accuracy is required.
Replaces human operators in tasks that involve hard physical or monotonous work.
Replaces humans in tasks done in dangerous environments (i.e. fire, space, volcanoes, nuclear facilities, underwater, etc.)
Performs tasks that are beyond human capabilities of size, weight, speed, endurance, etc.
Reduces operation time and work handling time significantly.
Frees up workers to take on other roles.
Provides higher level jobs in the development, deployment, maintenance and running of the automated processes.
DISADVANTAGES OF AUTOMATION:
Possible security threats/vulnerability due to increased relative susceptibility for committing errors.
Unpredictable or excessive development costs.
High initial cost.
Displaces workers due to job replacement.
Leads to further environmental damage and could compound climate change.
TYPES OF TEST AUTOMATION FRAMEWORKS:
Linear Scripting Framework
Modular Testing Framework
Data Driven Testing Framework
Keyword Driven Testing Framework
Hybrid Testing Framework
Behavior Driven Development Framework
COGNITIVE AUTOMATION:
Cognitive automation is an emerging genus of automation enabled by cognitive computing. Its primary concern is the automation of clerical tasks and workflows that consist of structuring unstructured data.
Cognitive automation relies on multiple disciplines: natural language processing, real-time computing, machine learning algorithms, big data analytics and evidence-based learning. According to Deloitte, Cognitive automation enables the replication of human tasks and judgment at rapid speeds and considerable scale.
Such tasks include:
Document redaction
Data extraction and document synthesis/reporting
Contract management
Natural language search
Customer, employee, and stakeholder onboarding
Manual activities and verifications
Reference – Jain Software