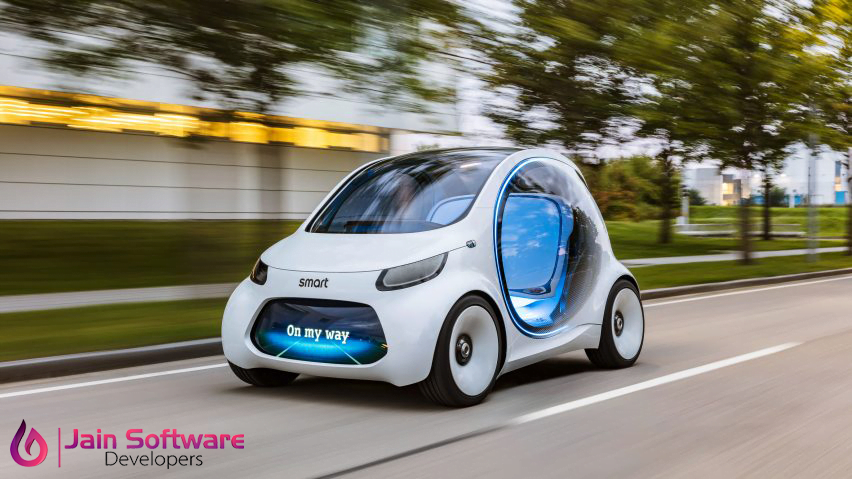 By Jain Software In Official Blog, Tech-BLOG, Technical
The autonomous car is a vehicle that can be capable of sensing its environment and navigating without human input. Autonomous cars have control systems that are capable of analyzing sensory data to distinguish between different cars on the road, which is very useful in planning a path to the desired destination. Autonomous cars can detect surroundings using a variety of techniques such as radar, lidar, GPS, odometry, and computer vision.
Self-driving technology is awesome in all these categories. Google's self-driving fleet, operated under its "Waymo" brand, is still in the testing phase.  Google plans to start small by deploying its multi-sized autonomous fleet in confined areas like college campuses, military bases, and corporate office parks.
Google get additional miles under its range before rolling out its self-driving cars onto city streets. Google has long pitched self-driving cars as a way to cut down on traffic deaths and as a tool for those who cannot drive.
Google's making some of its own sensing hardware, in a matter to keep prices down. The goal is always the same reduce cost and complexity and increase profit.
Self-driving cars may not be able to drive everywhere a human-driven vehicle can, such as construction zones or lanes only for emergency vehicles.
The utmost advantage the people will have is the world with fewer accidents, fewer traffic deaths, greater energy efficiency, and lower insurance premiums. This is the world of autonomous driving. It brings mobility to people who lack easy or practical access to driving, such as the elderly and disabled. It also appeals to the lifestyles and virtues embraced by millennials, such as health, entertainment, and mindfulness.