By Jainsoftware Media In Services on Perfection, Digital Marketing
Digital Marketing Service: Take Your Business to the Next Level
You are an expert in your field. You've put a lot of effort into developing your brand and attracting devoted clients. However, in today's digital age, establishing an online presence is essential to expanding your consumer base and expanding your business. Perhaps you've experimented with social media or SEO, but you're not getting the outcomes you were hoping for. Or perhaps you have no idea where to begin with digital marketing. You're not alone, so don't worry. Many small business owners have trouble putting up a successful digital marketing plan on their own.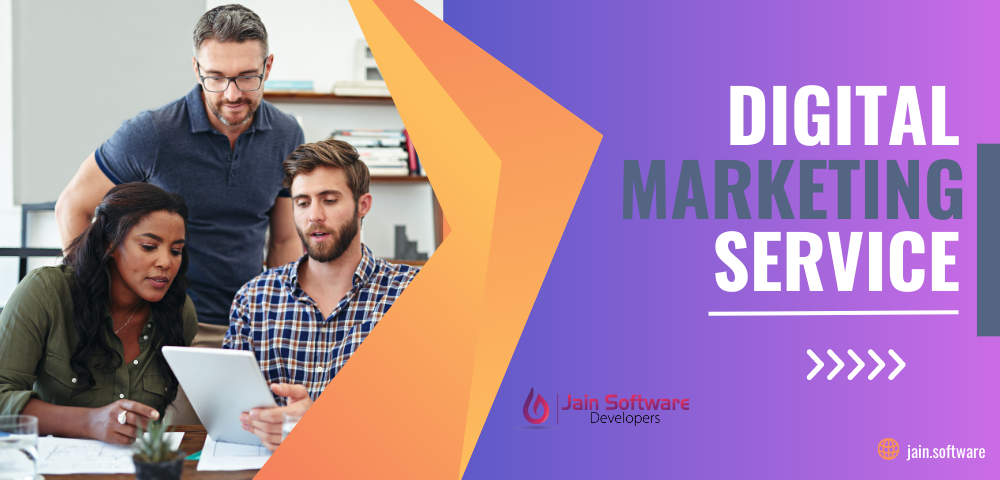 So you're looking to expand your company? That entails spending money on digital marketing in the age of the internet. To fit your objectives, our team can assist in creating a unique plan.
Our consultants for digital marketing will:
Determine the most effective strategies by analyzing your company and your clients. To create a plan specifically for you, we consider factors such as your target audience, offers, and goals.
Advise the ideal combination of services. Pay-per-click marketing, search engine optimization, social media marketing, and other strategies may fall under this category. Based on your particular circumstances, we assist in determining which combination will be most beneficial.
Offer advice regarding content creation. To keep your website, blog, and social media active and optimized, we'll help you create a content calendar and framework. things like posting frequency, content categories, keyword density, and calls to action.
Advise software and tools to make your efforts more efficient. Today, there are many accessible options for things like project management, analytics, and email marketing. We'll make recommendations based on your needs and financial situation.
Provide constant assistance and improvement. We conduct routine check-ins to assess performance, make corrections, and make sure you're getting the best returns on your investment because digital marketing is continuously evolving.
You'll get more visibility, better-quality visitors, and consumers if you have a clever digital marketing strategy in place. And the Jain Software staff will be by your side to help you at every turn. What is there for you to lose? To begin, get in touch with us today!
Social Media Marketing
Increase Brand Recognition
To improve brand familiarity and visibility, use social media marketing. You can promote your company and the services you provide by posting frequently on social media sites like Facebook, Instagram, and Twitter. Share images, blogs, news updates, and other content to interact with your fans and stay at the top of their minds.
To keep active in the social sphere without going overboard, post on each network two to three times per week.
To increase the discoverability of your material, use hashtags. Look up the hashtags being used by your rivals and influential people in your sector for ideas.
Run social media giveaways and contests to boost participation and attract new followers.
To humanize your brand, post photographs and videos from the backstage. Make yourself known to your fans!
Improve SEO
An active social media following is beneficial for SEO (search engine optimization). Search engines like Google are informed that your content and brand are reliable and authoritative when users respond to your postings.
Share articles from your blog, breaking news, and other information on social media to drive more people to your website.
Make use of the keywords you want to rank for in search results when writing your content. To rank for "digital marketing services," for instance, mention that word in your social media material.
Search engines consider likes, comments, and shares from followers as "social signals" on social media. You can rank higher for your target keywords in search results the more signals you have.
There you have it, then. You can advance your company with the proper digital marketing partner. Put an end to attempting half-measures and piecemeal solutions. Invest in a thorough digital marketing plan, and you'll see a sharp increase in your key performance indicators. Engage your clients in brand-new ways. Promote brand loyalty to increase sales. And remember to keep an eye on your ROI and bottom line. Why are you holding out? Your rivals have already staked their claims in the digital age. Join together with industry leaders, create a data-driven digital marketing plan, and begin to benefit.