By Jainsoftware Media In Services on Perfection, custom software development, Official Blog, Uncategorized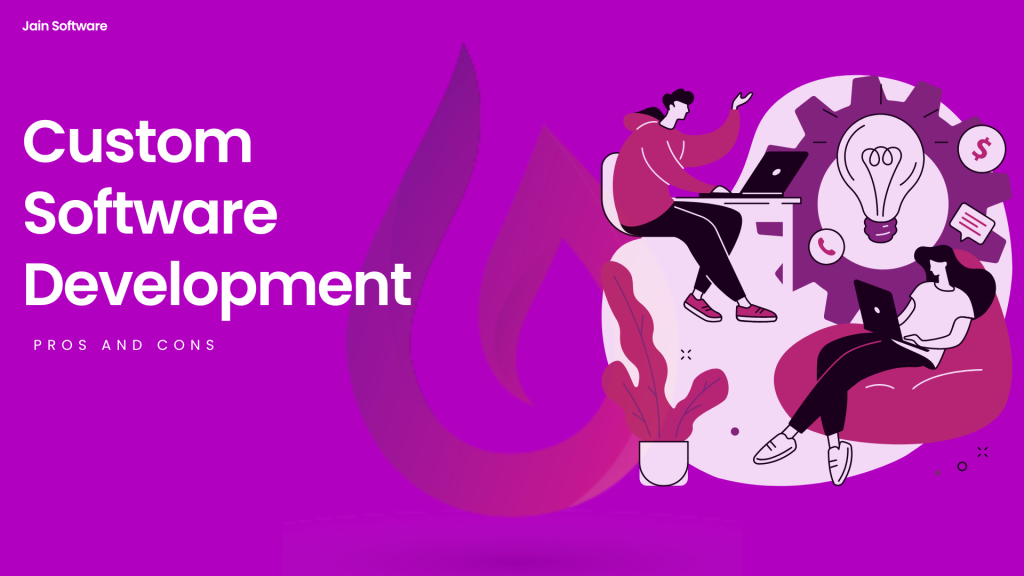 In today's rapidly evolving technological landscape, businesses across various industries are recognizing the importance of custom software development. Custom software offers tailor-made solutions to address specific business needs and challenges, providing companies with a competitive edge. Jain Software, a leading software development company, specializes in delivering top-notch custom software solutions to cater to the unique requirements of businesses. This article will delve into the world of custom software development, highlighting the expertise of Jain Software and providing insights into their pricing model.
The Benefits of Custom Software Development
Investing in custom software development can yield several benefits for businesses:
Enhanced Productivity and Efficiency
By automating repetitive operations and removing extra steps from workflows, custom software fits in effortlessly. Processes are streamlined, efficiency is raised, and workers may concentrate on more value-added tasks as a result.
Ability to scale and adapt
Scalability is a key component of custom software design, enabling organisations to readily adapt to expansion and shifting needs. It is simple to modify and upgrade as the company grows, ensuring that the software will continue to be useful and efficient in the long run.
Competitive Benefit
By giving special features and functionalities that are not present in off-the-shelf alternatives, custom software gives users a competitive edge. It enables companies to stand out from the competition, draw in more clients, and promote growth.
As a recognized provider of custom software development services, Jain Software has made a name for itself. We have successfully completed various projects in a variety of industries thanks to our years of experience and talented development staff.
Jain Software uses a client-centric methodology to design custom software solutions that are specifically tailored to the demands and objectives of enterprises. Delivering high-quality software that meets and exceeds client expectations requires the use of the most recent technology, industry best practices, and creative techniques.
Here is the pricing information for custom software development at Jain Software :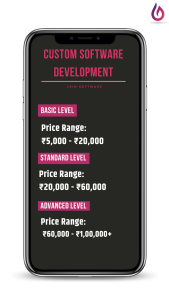 Basic Level Software Development:

Price Range: ₹5,000 – ₹20,000
Description: This package includes the development of a simple software solution with basic functionalities. It caters to small businesses or startups with limited requirements.

Standard Level Software Development:

Price Range: ₹20,000 – ₹60,000
Description: The standard package offers a more comprehensive software solution with advanced features. It is suitable for growing businesses that require additional functionalities and customization.

Advanced Level Software Development:

Price Range: ₹60,000 – ₹1,00,000+
Description: The advanced package encompasses complex software development projects with extensive functionalities, integrations, and scalability. It caters to larger enterprises or organizations with specific and intricate requirements.
Please note that the pricing ranges provided are approximate and can vary based on the scope, complexity, and specific needs of each project. Jain Software takes a personalized approach to pricing, considering factors such as project size, technology requirements, and development timeline.
It is recommended to reach out to Jain Software directly for a detailed consultation and a customized pricing quote based on your unique software development needs.
The Custom Software Development Process
Jain Software has a structured transparent method for developing custom software:
Analysis and Collection of Requirements
The first step entails comprehending the needs, objectives, and difficulties of the client. Jain Software holds in-depth conversations and analyses to make sure that the project scope is well understood.
Solution Planning and Design
The specialists at Jain Software create a thorough software design and architecture based on the requirements received. Determining the bespoke software's features, functions, and user interface falls under this category.
Testing and Development
The software solution is coded and programmed during the development stage. To make sure the software is reliable, scalable, and error-free, Jain Software adheres to industry best practices and quality assurance procedures.
Installation and Support
Jain Software installs the custom software solution to the client's infrastructure after the development and testing processes are over. To guarantee the software's efficient operation, they also offer continuous support and maintenance services.
FAQs
Q1: How long does custom software development take?
The timeline for custom software development varies depending on the complexity and scope of the project. It can range from a few weeks to several months. Jain Software will provide you with an estimated timeline based on your specific requirements.
Q2: Can custom software be integrated with existing systems?
Yes, custom software can be seamlessly integrated with existing systems and processes. Jain Software ensures that the custom software solution is compatible and can interface with your current infrastructure.
Q3: Will I have ownership of the custom software developed by Jain Software?
Yes, once the development project is complete, the custom software developed by Jain Software will be transferred to you, and you will have complete ownership of executable files only and cannot be resell.
Q4: Can I request additional features or modifications during the development process?
Yes, Jain Software encourages active client participation during the development process. You can discuss any additional features or modifications you require, and they will work closely with you to accommodate your requests.
Q5: Does Jain Software provide ongoing support and maintenance for the custom software?
Yes, Jain Software offers ongoing support and maintenance services to ensure the smooth operation of the custom software solution. They provide timely updates, bug fixes, and technical assistance as needed.
If you have any more questions or require further information, feel free to reach out to Jain Software directly. Their team will be happy to assist you.